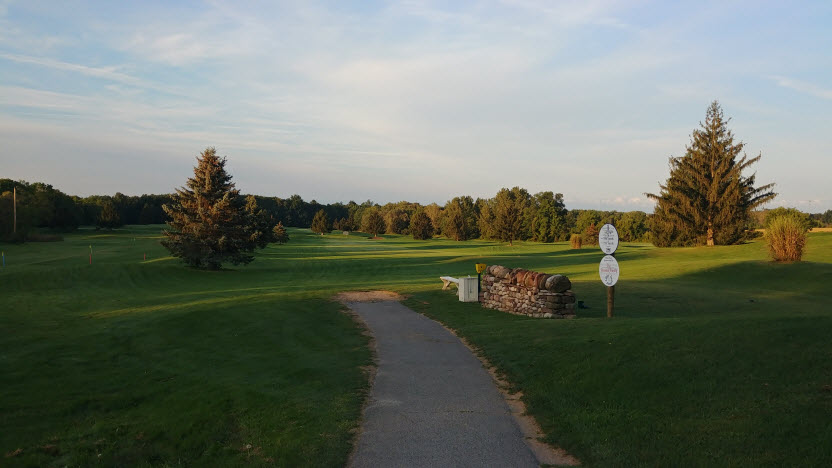 Within an hour, this quiet scene from Saturday, September 11th was abuzz with golfers lending a hand to make CFFC's Living with CF Golf Tournament a success. It was an all-around great day. Great weather. Great fun. Great result for CFFC's programs.
Twenty-five players competed in a closely contended 9-hole scramble. The first place team had a comfortable margin but there were ties for the second and third lowest scores. [The ties were resolved by the compared scores on the toughest holes.] Here are the final standings:
First place, with a score of 28, went to Tim Meyers, Aaron Huss and Jason Hogan.
Dan Sullivan, Jamie Romeo, Jim Fetzner and Kristen Shaw took second place with a score of 33. Dan also took the prize for closest-to-the-pin on the 9th hole.
Dave Fitzgerald, Nathan Dederick, Jeremy Cranker and Keith Kaufmann also scored a 33 for the third place slot.
A score of 33 earned the fourth place finish for P Gannon Fitzpatrick, Jeff Goldberger, Allan Mason and Steve Scofield. The closest-to-the-pin prize for the 2nd hole was claimed by Steve.
Fifth place honors were earned by Mike Sellars, George J Eiff, George R Eiff and Jake French with their 34.
The other score of 34 by Jackie Goldberger, Sue Smith, Carl Jutzin and Greg Smith produced a sixth place finish.
Of course, there are several components in a successful event. One key element has already mentioned: the players listed above. Having players wouldn't do much good if they didn't have a place to play. We again thank Southern Meadows Golf Club for hosting our event. Club pro, Mike Clawson, acted as official scorer as well as event coordinator. Double duty was also performed by Rick Clawson with his efforts as course superintendent and lunch grill master.
The Living With CF Golf Tournament is our major fund raising event so the real winners were the local CF community. We netted over $2,800 to fund our Hospital Help Packet and Clinic Baggie programs. For that, we owe a big thank you to the sponsors shown below. We appreciate the ongoing support of our repeat sponsors and welcome some new friends. It should also be noted that some of our golfers paid above the entry fee without asking for sponsor status.