After last year's break in the action, CFFC's Living with CF Golf Tournament returned in 2019 with good spirits, good weather and, as a result, good golf.

Eighteen golfers gathered on September 14th for nine holes of golf. The clouds that lingered at tee time (see above picture) dissolved and we finished in a pleasantly warm sunshine.
Thanks to our generous sponsors, each player was able to return home with a prize. Therefore, the scores just determined the order for prize selection. Here are the results:
With a score of 32 (par), first place went to Cindy Garcia, Jean Lazeroff, Helena Spring and Mary Moss (in spirit).
Second place was secured by Dan Sullivan, Jamie Romeo and Kristen Shaw with a score of 34.
Shooting 36 put Jackie Goldberger, Jeff Goldberger, Sue Smith and Greg Smith in third place.
Linda Maloney, Julie Maxon, Bruce Oliver and Tom Wickerham shot a 38 to place fourth.
The field was rounded out by Caroline Burtner, Linda Beach, Peggy Rickman and Stella Burtner with a 41.
Gift baskets also went to Greg Smith and Tom Wickerham for placing their tee shots closest to the pin on holes 2 and 9, respectively.
Of course, the real winner was our local CF community. The net proceeds from the event will go toward funding our Hospital Help Packet program. For that, we are grateful to all of our supporters.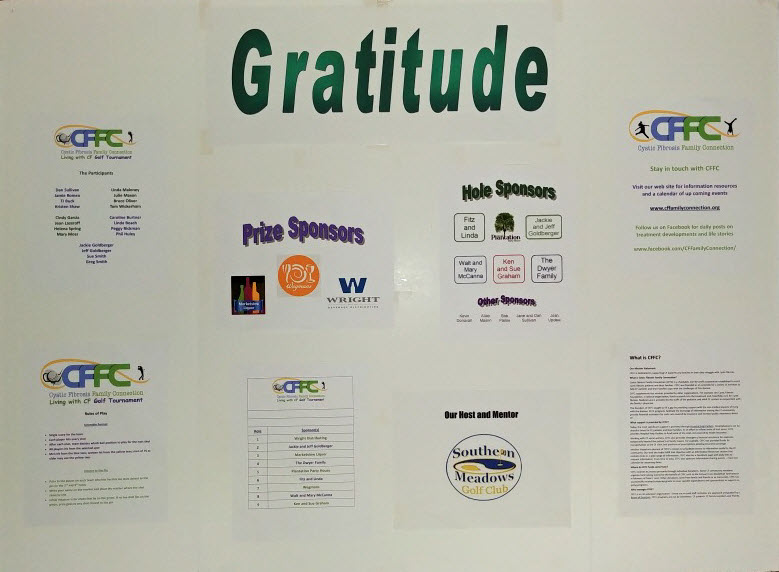 Our returning prize sponsors, Marketview Liqour and Wegmans, were joined by Wright Beverage Distributing. Allan Mason provided some last minute additions to the prize table. We also inherited some unclaimed prizes from the Lillian Invitational held the preceding night at Southern Meadows Golf Club.
Additional funding was provided by our hole sponsors: Fitz Fitzpatrick and Linda Stackman, Plantation Party House, Jackie and Jeff Goldberger, Walt and Mary McCanna, Ken and Sue Graham, and the Dwyer Family. These sponsors were supplemented with contributions from: Dan and Jane Sullivan, Bob Parise, Kevin Donavan, Allan Mason and Joan Updaw.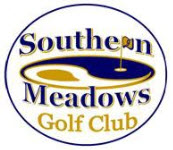 Last but not least, we appreciate the ongoing assistance from Southern Meadows Golf Club. In addition to acting as host, golf pro Mike Clawson served as our official scorer and menu coordinator. The golfers also directly benefited from Rick Clawson's efforts through his roles as head groundskeeper and grill master. The conditions were ideal and the lunch was delicious.