I've used words like "challenging" and "overwhelming" and "restriction" which likely conjure up negative associations with lung transplantation. For a more complete picture, let me share some of the amazing benefits of life after transplant. Let's end on a high note by using words like "rewarding", "overcoming" and "freeing".
For example, there are no longer oxygen tanks in our house. They're gone. The tubing, the hassle of contacting the oxygen supply company for more tanks or exchanges for compressors that are defunct. Done. It's freeing to not have dog and kids tripping over the tubing all over the house. My husband is so grateful to not have all the mucous production. No more always needing tissues there to catch the coughed up junk.
We still have to use the neb periodically, but certainly not multiple times daily as we did pre-transplant. We do have a somewhat complex medication regimen, but it's all pills and, now that we're in a routine of ordering and sorting, it's become easier to manage. We no longer have to engage in the time-consuming washing and sanitizing of nebulizers and no more inhalers.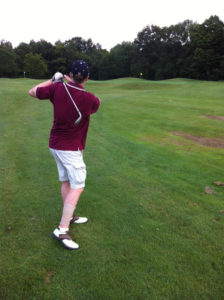 My husband is playing golf again! We even did a 5k race together recently, crossing the finish line to the cheers of family and friends.
The victories are sweeter when we look back at the lowest point: laying in a hospital bed, struggling to breathe, wondering what was next. The people we have met all along the transplant path are some of the sweetest relationships we now have. Meeting people during challenging times and then sharing the victories with them afterward is a beautifully rewarding experience.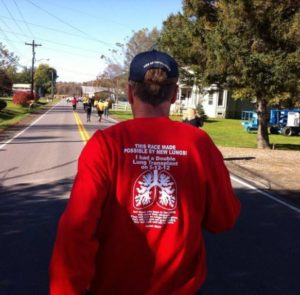 As I mentioned previously, we have experienced world-class care at a medical facility with which we had been completely unfamiliar. Although we had to work through some growing pains to get used to it, we now feel privileged to receive care from such a terrific team. Having doctor appointments so frequently in NYC has also provided some wonderful opportunities to our family that we wouldn't have had otherwise – like attending the Macy's Thanksgiving Day Parade in person, running races near NYC, visiting sites and museums and re-connecting with family roots and memories. All possible because, I guess you could say, we've tried to make lemonade out of lemons whenever we could – even when it was a stretch!